There are certain periods of High Street fashion that go in the favour of women who wish to cover conveniently with style. I am sure there are those days when shopping that most of us go looking ragged in hope to find the summer High Street collection fashionably breezy coverage-able clothes section!
Lucky for us, Summer 2011 spells our perfect summer wardrobe where the 1970's vibe has brought back the flare, wide plazzo trousers (a feature to come on this soon), floor length dresses and maxi skirts in reams and variety to our shops.
In particular, these skirts are those perfect maxi length skirts, without the slit detail or pencil style cuts. Highstreet brands River Island, New look, ASOS, Topshop and many more in fact have a whole range dedicated to an assortment of  summer florals, pleats, breton stripes and soft denim style skirts to name a few!
Below I have captured a few of my favourites from this summer's variety that are ideal for the wardrobe of work, weekend, casual and picnic events:
 ASOS Colour Block Maxi Skirt £40
Colours block have been big this season, and the great aspect of this skirt is that the two tones with soft pleat detail give a superluxe look to your outfit. Whats more, the brown colour block makes it a timeless piece for your wardrobe capsule.
Style idea: The skirt can be made casual as by the vest combination that model is wearing in this picture and likewise worn to work with a silk shirt combination look…mmm I dream away!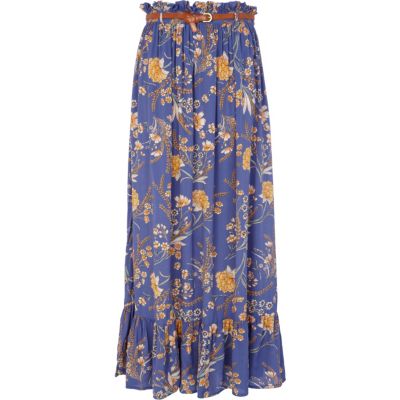 River Island: Blue Floral Print Skirt £34.99
Pleats have been a feature of skirts this summer. However this skirt has the unique feature of a pleated waist at the top of the skirt, instantly adding a catchy flair. The cool tone and soft florals of the skirt means you can wear this skirt across the entire British Summer without worrying if you will be wearing something too bright during a sudden thunderstorm!
Style idea: The pleated waist feature can be captured with a tucked in white/brown/matching blue vest. A mid length cardigan will also keep the focus on the skirt.

    H&M Denim Skirt – Currently on sale for £7.49
This is the perfect weekend picnic/ beach skirt. A soft denim wash with modern horizontal pleat detail.
Also for sale at under £8 it's a sure steal!
New Look Pleated Maxi Skirt £34.99
The classic pleated folds on this skirt makes it an ideal piece to wear to work. The combination of the sandstone colour makes this one of my  favourite skirts for the summer, as it makes a great foundation for adding different notes of colour brights to neutrals.
New Look Jersey Maxi Skirt £14.99
I picked this skirt as the straight cut jersey skirt adds an instant slimming look to most figures. The jersey material allows for a comfortable stride as you walk.
Style idea: This skirt is a perfect no fuss, casual skirt to wear. The blank beige canvas means you can add a pattern top, in neon colours for a pop!
Definitely recommend to check out the wider range of skirts available in these stores, I shall now float away in my skirt!